SciShield's approach is centered on creating a sustainable scientist software infrastructure.
Sustainability is achieved by:
Maintaining costs for the long haul
Balancing new staffing needs with budget constraints
Withstanding loss of employees and leadership
Withstanding hard drive failures and destroyed or lost paper files
Meeting evolving needs or completely changed requirement
Providing security that keeps your data safe while not negatively impacting accessibly and usability
And many more...
SciShield's approach creates synergy between users, IT people, and software that supports sustainability.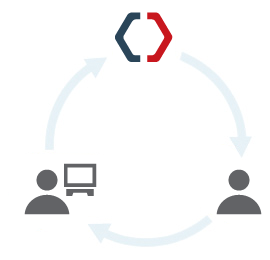 SciShield helps scientist organizations achieve sustainability through:
Leveraging the combined power of multiple scientist organizations through collaborative development and cost sharing
Increasing productivity of staff
Providing a scientist specific platform that is secure and flexible
Utilizing Open Source and Standards-Based software
Insulating from loss of data
Insulating from the effects of employees loss
Building software to meet specific needs is an expensive and timely process. Enterprises spend years building software that takes years to support and improve. For most organizations, creating customized software to meet specific needs is a dream that is too cost prohibitive to ever achieve properly. Many groups who try and do this themselves find out the hard way. However, in the scientist community very specific needs are shared among large numbers of scientist organizations. Given that so many people face similar struggles SciShield has put together a program that enables scientist centers to work together to develop applications that meet a common need. Time, effort and money are shared amongst everyone! This approach ensures sustainability as new needs are recognized. Through the SciShield Collaborative Development Program scientist organizations work together to enhance current features or add new capabilities to the software.
If you have an idea for a new module or enhancements to an existing one
What is the Collaborative Development Program?
It is a software development that combines the efforts and spending power of more than one scientist organization. This means that a module developed by one scientist organization is available to others at a significantly lower cost that it would be to develop themselves. This also means that scientist organizations that have similar needs can join forces. Each group gets what they need and saves significantly compared to developing it alone.
How is this beneficial to everyone?
A significant amount of time and effort is saved
It is like having a much larger group of minds and funds solving problems together
Much lower costs than developing it alone
What if my scientist organization needs a module but with somewhat different features?
With SciShield you can have your own specific features, field names, etc. As the SciShield basic building blocks were created to handle this, customizing a module is a matter of getting the requirements down properly, coding it up, and a lot of testing. While this is a more expensive approach than working collaboratively on a module, you may just need something that specialized.